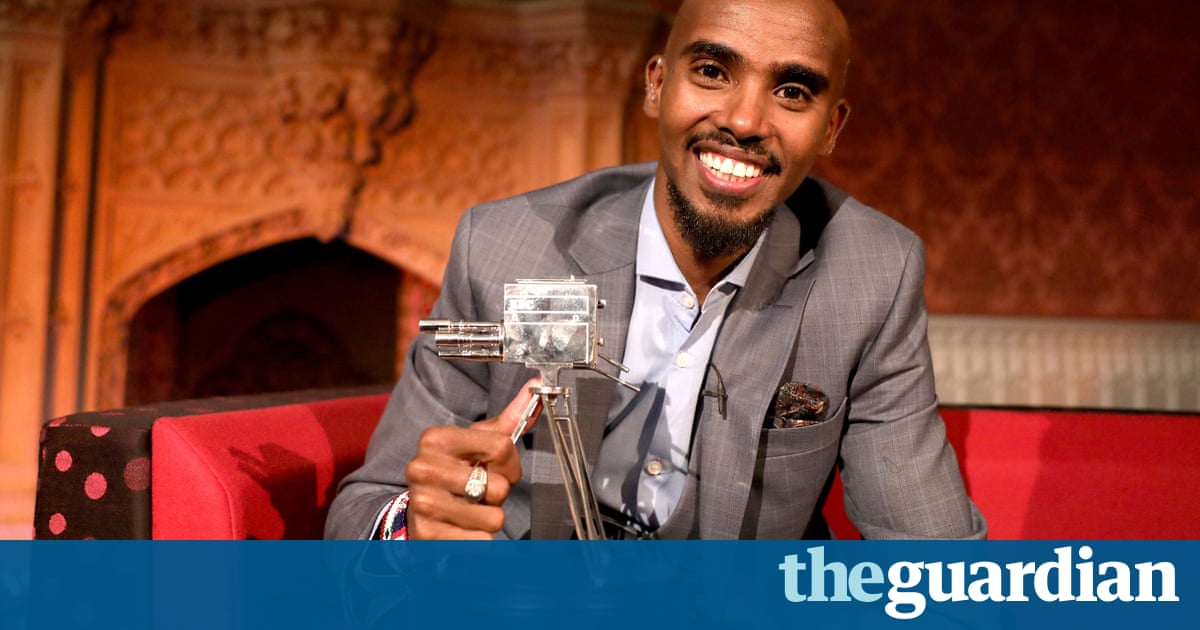 Sir Mo Farah was named the BBC's Sports Personality of the Year award on Sunday night as the presenters Gary Lineker and Gabby Logan struggled to cope with the shock result and a broken video link.
The four-time Olympic champion did not attend the event at Liverpool's Echo arena, but remained in London where he conducted a chaotic live interview from St Mary's University in Twickenham. His daughter Rhianna was alongside him, helping to take care of Farah's two-year-old son Hussein who was suffering from a vomiting bug. At one point she picked Hussein up and rushed from the room to howls of laughter from the studio audience.
The 34-year-old has previously spoken of his belief that he would never finish in the top three in SPOTY again and the bookmakers were quoting odds of 50/1 before the show. The boxer Anthony Joshua, a three time heavyweight world title belt holder, attended the ceremony alongside 10,000 others and had been a hot favourite to win. But he did not even finish on the podium with superbike rider Jonathan Rea finishing second and Paralympic sprinter Jonnie Peacock third.
Even Farah's own coach Gary Lough was caught uttering disbelieving expletives by the BBC cameras. As well as the shock result, the presenters had to contend with a video link to London going down at the crucial moment.
When it was re-established, Farah did not disguise his surprise. "I can't believe it," he said, "there are such great people on the shortlist from Anthony Joshua to Lewis Hamilton and Jonnie Peacock."
"I do wish I was there," he added, "I wish I was giving back to people. My son and twins have been sick. In fact while I was in the room he was throwing up everywhere. I owe it to public and people who supported me and voted me. I can't stop staring at it," he said gesturing to the trophy.
Farah's athletic achievements are undisputed, as an owner of ten global titles. He won 10,000m gold and 5,000m silver at the world championships in London this summer to add to his four Olympic golds and five more world titles. But his medals have been overshadowed at times by controversies surrounding his support team.
His former coach Alberto Salazar remains under investigation by the US Anti Doping Agency with a leaked report stating he 'almost certainly' flouted anti-doping rules with six of his athletes, none of whom were Farah. After the Rio Olympics in 2016 Farah gave an interview stating his belief that he would never reach the SPOTY podium again. "I won't be in the top three," he said, "You have just got to accept what it is. What drives me is winning medals and just going out there and enjoy it."
But after winning the award he said: "It means everything to me. I owe it to my country and I know I get the cheers on the track. It encourages me every day to keep grafting."
Joshua, who beat Wladimir Klitschko in a world heavyweight unification bout at Wembley in April made a hasty exit after failing to reach the podium with a result which left many in the arena gasping with surprise.
The BBC also wrestled with how to reflect the cloud hanging over another of the shortlisted candidates, Chris Froome.
Froome had been third favourite to win the award. But an investigation by The Guardian and Le Monde last week revealed that the four time Tour De France winner, one of Britain's highest profile sportsmen, had failed a drugs test
The video in support of Froome had clearly been recorded before Wednesday's news. Voiced by Liverpudlian actor Stephen Graham, famous for his roles in This Is England, it was effusive in its praise of Froome's achievements. "King of the counter attack, master of the mountains, unflappable, untouchable, unbeatable," purred Graham as pictures showed Froome grinding up a gruelling ascent, away from the pack. "How about history? How about back-to-back victories? The greatest of a generation. No ego here, no celebrity," it continued, "history man, family man, stomach churning, pedals keep turning."
Balance was needed and it was up to Clare Balding, one of three presenters alongside Gary Lineker and Gabby Logan, to provide some. Tough questions were needed but this was not so much an interrogation as a gentle stroking over a video link to Mallorca where Froome has remained on a training camp with Team Sky. "What's your take on it and the concern caused?" asked Balding. Froome, 32, looked noticeably uncomfortable but handled the situation. "I do completely get it," he said, "I understand the concerns. I've been a bike rider for 10 years, I know how some people might look at our sport.
"That's a responsibility that I take really seriously," he added, "I'm an asthmatic and I have been since I was a child. I have a puffer to help me manage my asthma. I've never taken more puffs than I should. This is quite a horrible situation. We're working as hard as we can to get to the bottom of it."
Jessica Ennis-Hill who never won the main award was honoured with a lifetime achievement award. "I'm completely overwhelmed," she said, "amazing women have inspired me throughout my career and a roomful of legends here is unbelievable."